The Restaurant Designer - Philadelphia
SERVICES OFFERED
-General Assessment & Floor Plan
-Interior Design of the Space
-Conceptual Development
-Construction & Build-out Management
-Kitchen & Bar Layout
-Realistic Budget Consultation
-Employee Training Seminars
-Restaurant Marketing Consulation
-Planning To Open and Build-out a Restaurant in the Philadelphia area and need a Restaurant Designer?

-Do You Have Questions about the Cost of Renovating Your Existing Restaurant?

-Have You Recently Signed a Restaurant Lease in Philadelphia and Need to Layout & Design The Space?
-Are You Considering Rebranding Your Restaurant?

Philadelphia Restaurant Designer Raymond Haldeman is a former successful Society Caterer & Restaurateur who's been Designing & Rebranding Bars, Restaurants, Hotels & Nightclubs for 0ver 2 decades.

Haldeman always say's "It only makes sense to hire a designer, a "Restaurant Designer," who is intimately familiar with the hands on day to day operations of the restaurant business.
Integrating wow-factor design with efficient function is a powerful and winning combination to insure a restaurant's success.
Restaurant Designer Raymond Haldeman offers a Free Consultation to any operator planning a new venture or rebranding or renovating an existing establishment in the Philadelphia area.
Give Raymond a call, share your plans, he is happy to talk to you personally about your project and answer all your questions. You'd be surprised how much valuable information can be gathered in just one phone call and you have nothing to loose!
Call now, and get candid answers to those nagging questions once and for all. 1-866-735-3582
Restaurant Designer Raymond Haldeman also designs and represents the largest selection of quality Designer Restaurant Furniture online.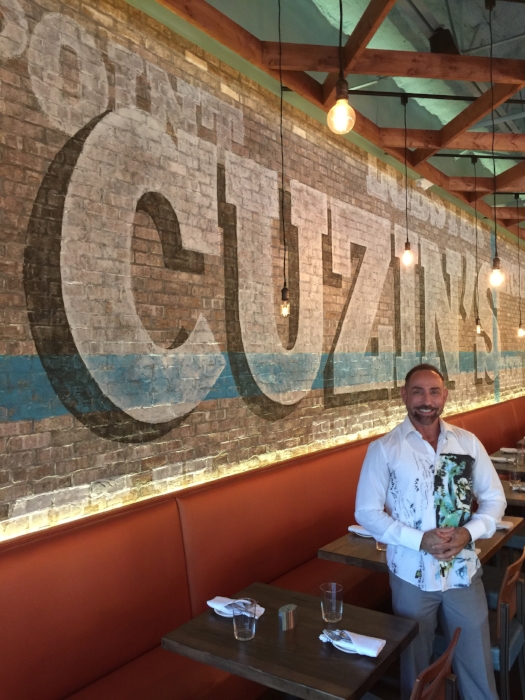 In addition to his Restaurant Interior Design expertise, Raymond Haldeman has been a successful Business Consultant in the Restaurant industry for over 20 years.

When on the job as a designer, Raymond's consulting expertise and business perspective are at your disposal in all other areas of your operation including:
-Developing Additional Income Streams
-Assistance with Marketing Strategies & Bar Promotions
-Guidance in Grand Opening Launch Development
-Management & Training Seminars
-Kitchen Management & Operations
-Strategies on Developing a Thriving "Private Party" Business
Remember, Philadelphia Restaurant Designer Raymond Haldeman will talk to you personally about your plans and answer any of your questions Free of Charge, so call now!
1-866-735-3582

Raymond Haldeman's creative talents and business accomplishments have been profiled in many reputable local and national publications including The NY Times, Money Magazine, The Wall Street Journal, USA Today, The Robb Report, Gourmet Magazine, Bon Appetit, Town & Country, The Hollywood Reporter, The Houston Chronicle, Philadelphia Magazine, The Philadelphia Business Journal, The Jewish Exponent, The Courier Post, Ocean Drive Magazine, The Philadelphia Inquirer, The Main Line Times, The Palm Beach Post, Clematis Magazine and Parade Magazine...